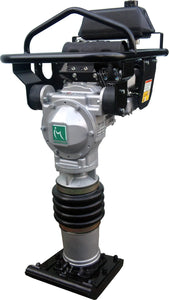 TRENCH RAMMER COMPACTOR - RT70F
Introducing Meiwa's Rammer Compactor, RT70F, the perfect mechanical rammer for compacting soil in tight spaces such as trenches, around pipes or in landscaping projects in NZ. Featuring a powerful Honda GX120 engine, this model is lightweight, providing effortless tamping rammer use.

What's Special About RT70F Rammer Compactor?
Powered by a reliable Honda GX120 3.5hp engine, this lightweight and easy-to-use mechanical rammer features a compact plate size of 330 x 270mm, allowing for effective compaction even in narrow areas. With an impact cycle of 10-10.8Hz and impact stroke of 40-60mm, the RT70F delivers exceptional results quickly and efficiently. The direct drive and oil bath lubrication further enhance the machine's durability and longevity, making it an excellent investment for any construction or landscaping project.
Call Meiwa on 09 283 9658 or contact us online and don't let tough soil or asphalt slow down your project.
Specification Comparison
| | | | | | | |
| --- | --- | --- | --- | --- | --- | --- |
| Rammers | Engines | Weight | Size | Vibration Frequency | Stroke | Fuel Tank |
| RT50R | Robin EH09 2.8hp . | 55kg. | 330 x 230mm. | 10-10.8Hz. | 40-60mm. | 2.5L |
| RT70F | Honda GX120 3.5hp . | 70kg. | 330 x 270mm. | 10-10.8Hz. | 40-60mm. | 2.5L |
| RT70R | Robin EH12D 3.5hp . | 70kg. | 330 x 270mm. | 10-10.8Hz. | 40-60mm. | 2.5L |
| RT70RD | Robin EH12D 3.5hp . | 72kg. | 330 x 270mm. | 10-10.8Hz. | 40-60mm. | 2.5L |
| RTX55D | Robin EH09 2.8hp . | 61kg. | 330 x 230mm. | 10-10.8Hz. | 40-60mm. | 2.5L |
| RTX60D | Robin EH09 2.8hp . | 63kg. | 330 x 270mm. | 10-10.8Hz. | 40-60mm. | 2.5L |
| RTX75D | Robin EH12 3.5hp . | 77kg. | 330 x 270mm. | 10-10.8Hz. | 40-60mm. | 2.5L |
| RTX80D | Robin EH12 3.5hp . | 80kg. | 330 x 300mm. | 10-10.8Hz. | 40-60mm. | 2.5L |